e-mail is lfuller@lanset.com
Facts about New Funny Book No. 2: Published in 1976, 32 pages, glossy stock color cover by Alex Nino as above, black and white newsprint guts. A humor oriented anthology. Pages left to right: Inside cover by The Great James Davis (depicting his version of me!), Bob by Bob Vojtko, first and last pages of four pager called Lorok, art by Dan Bulanadi, written by Larry Fuller. This entire story is based on phrases or variations of phrases from rock and roll songs, the result of too much wine combined with late night radio and a pressing deadline. Don't recall exactly, but think may have been inspired by reading that title of Steinbeck's novel "Grapes of Wrath" was taken from a song. Purposefully done in an early Warren magazine look.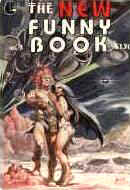 Facts New Funny Book No. 3: Published in 1978. Painted cover by none other than Nestor Redondo, glossy stock, contains 60 pages printed in two versions, one standard newsprint, the other a heavier white book stock, cover price $1.50. This continues the anthology format of its predecessor but expands on that theme, featuring not only humor, but also two science fiction stories, two Westerns, a funny animal detective, an illustrated Filipino folk tale, as well as more one liner based zaniness of Lardo and The Dolts, etc. Artists included R. Harp Tesseract, Ben Alcantara, Gary Figari, Raye Horne, Dick Davies, Duane Bibby, and the Marvel bound team of Ian Akin and Brian Garvey, among others. One of my favorite books, very entertaining, more closely representing what I actually craved to publish than any other. Like its predecessor, though, sales had yet to justify its continued production, though I had already purchased artwork for two more 60 page issues, all sadly consumed in the fire of June 17, 1980. Tuesday. Exactly 10:00 a.m., sun shining, birds singing, house burning down. Made the noon news.
New Funny Book © 1977, 1978, 2000 by Larry Fuller. All rights reserved.