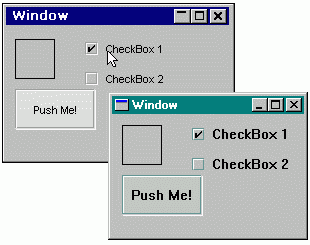 Merged screenshot of DEMO4.EX. Can you tell which one is Win32 and which is DOS?
mwLib: Minimal Windows Library
WARNING: This has become Yet Another Abandoned Project...
The Portable Window Library tried to create a small, portable library of window routines, called mwLib ("minimal windows library"). Working prototypes exist for Win32 and DOS.
The main point of interest is the DOS port. It has a fairly complete Window Manager, complete with text and graphic clipping. Very cool!
| Platform | Status | Version Date | Download |
| --- | --- | --- | --- |
| Win32 | Most of mwLib has been coded. | April 11, 2000 | Win32 Version |
| X Windows | Some experimental code has been written. | March 24, 2000 | X Windows Version |
| DOS | Most of mwLib has been coded. | April 11, 2000 | DOS Version |