WELCOME TO MY HOMEPAGE!
I guess I need an intro here--my name is Kathie Weigel and I am now living in my hometown of Akron, Ohio, after returning from 25 years in Southern California. .

My hobbies are reading, genealogy, history, genealogy, computer, genealogy, and genealogy! The main purpose of my home page is to provide genealogical databases for the researcher. Links are available for Cornish, Pennsylvania German and Quaker information.


JUST FOR FUN!
See below the databases for my new 1970s lyrics quizes!


Latest updates: 17 October 2007


6 Feb 2007: Added article "Debunking the Van Horn Myth in the Kratzer/Krotzer Ancestry" to Pennsylvania German Database.
9 April 2007: Added a link to my new Penwith Genealogy Board to the Cornish Database.
20 May 2007: Updated some strays on the Gwithian Page
16 June 2007: Added another set of will & administration abstracts to the Cornish Database
13 July 2007: Added Corrections and Additions to my Cornish Probate Abstracts
---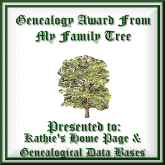 Many thanks to Linda Branan
for the award!
GENEALOGY DATABASES:

---
"JUST FOR FUN"
1970s Lyrics quizes. Read the snippet of lyric; guess the name and artist of the song.
---
SOME FAVORITE LINKS:
Genealogy:
Findagrave
Find famous graves (left hand column) or search millions of non-famous graves (right hand column) for the burial sites of your ancestors. Hundreds of new entries added daily!
Hochstetler Descendants: HHH Home Page
The home page for descendants of Jacob Hochstetler, and other Hostetler, Hochstetler, Hochstedler families.
Linda Branan's Home Pages & Family Links
Many families from the Indiana County, Pennsylvania area, and tons of other fun stuff!
PA Gen Web: Pennsylvania Genealogy
Check here to see what is available for all Pennsylvania Counties
England Wills Exchange Database
A growing collection of online wills for many counties in England.
Deeds County Catalogue
Harvard Law School Library's online catalogue of medieval and late modern deeds.
Other Cornish Databases:
Penwith: Southwest Cornwall
Great maps and photos--a must for anyone interested in far Western Cornwall! Also info on the Berryman Family and related lines.
Illogan Parish Research
Links to miscellaneous information for the parish of Illogan
Dee's St. Erth Page
A rapidly growing database of St. Erth parish registers. Now also contains numerous will abstracts for various parish throughout Cornwall!
West Penwith Resources
A must for anyone researching in Western Cornwall! Links to many online sources.
Lelant Online Parish Clerk
Excellent online sources for the parish of Lelant
---

To email me, click HERE