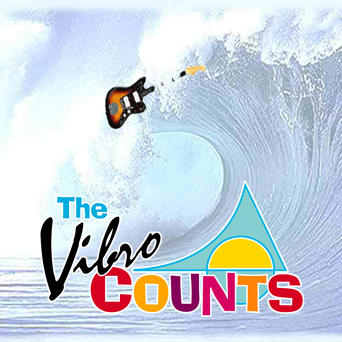 Instrumental Retro-Surf Music...
Hot Tunes for Good Times!
The VibroCounts are Sacramento Valley's top instrumental surf combo. They capture the sun-drenched sounds of California beach music: staccato-picked guitars played through springy reverb with the rush of tremolo-soaked chords.
The VibroCounts' repertoire features proto-surf goodies like Mr. Moto, Bulldog and Walk, Don't Run; Pulp Fiction tunes Miserlou and Surf Rider; retro-rocket classics Pipeline, Penetration, Diamond Head, Baja and Out of Limits; surf-sound versions of jazzy Comin' Home Baby, Perfidia and Harlem Nocturne; great dance-rhythm rockers like La Bamba, Green Onions, and The Wedge; and (of course) the surf drum anthem Wipe Out!
The VibroCounts follow in the tradition of great instrumental groups like the Astronauts, Bel-Airs, Challengers, Champs, Chantays, Dick Dale & His Del-Tones, Lively Ones, Marketts, Pyramids, Saturn V, Surfaris, and, of course, the Ventures. The VibroCounts also gather modern surf sounds from groups like the Aqua Velvets, Boss Martians, Eliminators, Halibuts, Jon & the Nightriders, and Los Straitjackets. Add to this variety of new and old the great originals, and the VibroCounts can bring an ear-to-ear smile to every listener's face!
Hear the VibroCounts play (mp3 format):
by Tom Hanks, Gary Goetzman, Mike Piccarillo (Saturn 5)
by Miles Corbin (Aqua Velvets)
If you do not have an mp3 player, go to AudioActive (free) or mp3 ($) links on our music links page.

And now
the VibroCounts present
the amplified acoustic melodies of...

Click here for a list of the music The VibroCounts might perform: