e-mail to lfuller@lanset.com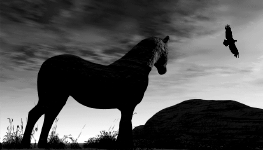 One of my favorite efforts, tentatively called "Longing", using a Lightwave horse model (3D Cafe?) and a scan of an eagle from a magazine. Terrain and shrubs standard Vue 3 objects. Rendered in color but seems to have more feel in black and white and gray.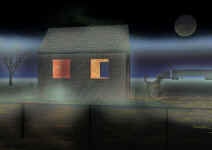 Little tableau using, I think, objects from 3D Cafe and Vue 3, and one click of post work being a randomly selected preset from Aetherize in Blade Pro. Took longer to type the word than achieve the more moody effect, which was applied to a picture with few other redeeming qualities, other than knowledge and practice gained in setting it up.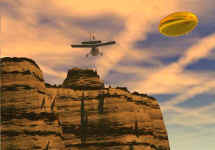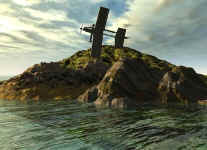 Two panels are from a short comic strip story in need of finishing touches. Uses standard Vue objects but I think the plane was downloaded from somewhere, either a free stuff and/or 3D Cafe. The elongated orb in top picture is a Vue primitive. Dialogue and narration left off these pictures.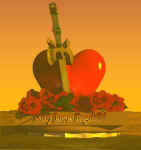 A picture made overnight because of a misplaced Valentine's Day card for my lovely wife. Uses nothing but objects from 3D Cafe, i.e., heart, sword, roses, platform. All else is standard Vue 3 and me. Not great, but very timely and she loved it. We had a great evening.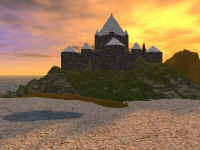 I think this castle came from a download, possibly Vue free stuff at Renderosity or similar site. Rendered while learning ins and outs of the program, a task still ongoing. Standard Vue 3 terrain.
Another use of character built in Organica, exported to Imagine, and I think as DXF to Vue. Not sure, but think plant inside the orb and trees came from Vue free stuff or similar site. Picture has lots of things wrong with it, but, then again, so do I.