e-mail to lfuller@lanset.com
I don't think I would qualify as the "typical Poser" user, if there is such a thing, as my predominant intentions of use with this fine program originally were and continue to be almost solely with an eye to using it as a template for making figure drawings in sequential situations, specifically comic strips. I must say, though, as this desire is fulfilled, I have gravitated somewhat more towards the idea of "typical" use, i.e., making pictures with the program itself, often with some kind of post work. Nothing spectacular yet, though.
This lady is/was a then formerly relatively new Victoria/Millie character, formerly owned by Zygote but now DAZ3D with a quick couple of renders and a bit of Blade Pro post work searching for suitable comic strip looks. One problem is I keep forgetting combinations of sets and presets used. Ahhh, yes, the "gifts" of age.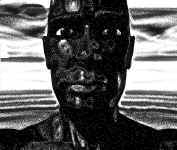 I call this rather quickly made little picture "American fear" because, as a black man today, that is what it feels like sometimes. Poser 4 standard nude male with, I think, homemade reflection and transparency maps, then a Blade Pro setting or two, probably using India Ink. One of several made after a mildly traumatic trip to a local supermarket.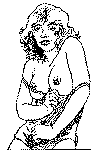 An example of why I bought Poser in the first place, i.e., to use as templates for the aforementioned pen and ink drawings in comic strips. Just a quick pose after one in a magazine, "rendered" in Poser 4 cartoon line display mode with the angle changed from original picture, printed out, put into a light box apparatus, projected onto paper, then inked with cloth and hair added on paper. Sounds tedious, but the drawings look clean because there are no sketch lines to erase. I do this not so much for the face, but the form and perspective, not readily apparent on this particular one.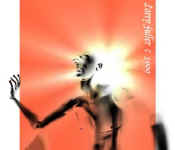 A happy accident. The background is a Golgotha texture downloaded from somewhere. Standard Poser 4 figure that got the funny look (I call it "reverse chrome") that happened when I selected something - don't know what -- to cause odd display. Not fancy, just odd.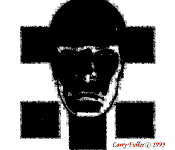 More effort in the quest for interesting comic book looks. Standard Poser 4 head, background from somewhere (a Print House CD I think), grayscaled and otherwise tweaked, color reduced, stuff like that. Lost original file on corrupted Zip disk.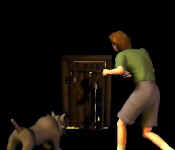 Combination of Poser, Organica, and Imagine. Dog built in Organica, exported to Imagine and put with standard Poser youth. Door in background from somewhere in a free stuff or public domain, or may have slapped together in Imagine myself. Always testing. If yours, please inform, will properly credit.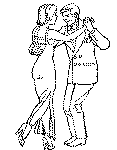 Another example of Poser paying me back for purchase price. Drawing from Footlights! clip art elsewhere in these pages. Posed from a video with the camera angle changed as described for a previous picture, projected, inked, etc. Poser has made my drawing life easier.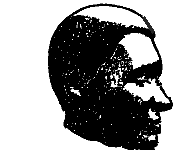 Attempt at a self portrait in comic book drawing style. Not exactly what I had in mind but close enough for government work description wise, i.e., a pen and ink style likeness. Standard Poser 4 head, post worked up in PSP6 and/or Blade Pro.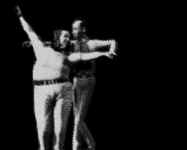 Man and woman from Poser 4, morphed a bit, may have been downloads from a free stuff pages, (Renderosity?) posed dancing. Don't think poses are from there but could be. More posing tests for projection and inking but some of the filter results look promising.