e-mail to lfuller@lanset.com
This page is graphic intensive!
No, not that kind of grass! It refers to something actually addictive, my 20+ years of continuous friendship and episodic collaboration with my late good friend and early day role model, whom I sadly actually never even met in person, Richard "Grass" Green, of Fort Wayne, Indiana. What can I say about Grass that hasn't been already written and said, by others more eloquent than I? Aside from being a righteously quality individual, Grass was nothing less than a true pioneer in the independent (nee underground) comics/comix publishing universe, for any persons involved in such endeavors, be they black, white, or whatever, and, in the infancy of my publishing days, nothing less than the patron saint of yours truly in this regard. I myself was the first independent black publisher I knew of until one day in the 70s I ran across one of his books and learned that the artist, a black man, also wrote, drew, edited, published, and distributed his own books, in addition to doing work for various other publishers, and had done so for years!
I have been privileged to work with him and benefit from his knowledge of comic making, drawing, writing, and publishing and other esoteric tidbits of the comics universe. In 1980, he contributed work to a book of mine at a time it was sorely needed. Starting in the early 90s, a chance remark led to the opportunity of inking three or four of his books (The Decorator, Horny Comix, etc) and assorted other projects, a task comprising several dozen of his pages. Below are displayed a few samples of this work.
From left to right above are two pages from as yet unpublished two-parter, The Making of Lolly, a page from Up From the Ghetto, and two sketchbook pieces featuring his long time characters, Wildman and WildWoman.
Above are two panels from a story published in November 1998 issue of Scary Monsters Magazine, featuring a 12-year-old who, as per the title and despite unbelieving parents, does his best to "Save the World!" There are many more pages from various stories but these are the only ones available without digging through tons of storage. All above characters and artwork ™ and ©1998, 2000 by Grass Green. All rights reserved. Used by permission. Rest In Peace, Brother Green!
Gallery of Miscellany
Below is a gallery of assorted, admittedly minor, solo efforts by the author of these pages. Some are traditional media and some are electronic and/or a combination of both. They hold to no particular theme and represent nothing more than what they appear to. Hey, they are just stuff. All the below artwork © 2000 by Larry Fuller. All rights reserved.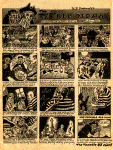 The first page I ever got paid for doing. Appeared in Laugh In the Dark, an underground circa 1970, all stories of HP Lovecraft. Thanks, Rory. May you rest in peace.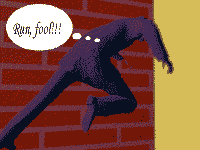 A panel from my proposed new strip Every Night of the Week™. Look for it here shortly. Done (quickly) in Poser 4 with Blade Pro.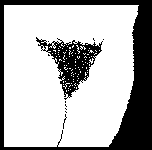 One of my first pieces of computer art, 1984, done on a Commodore 64 with the FlexiDraw pen drawing system.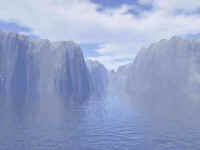 "Fjords". My wife is from Norway. Did this in Terragen. Not too good but the best I did.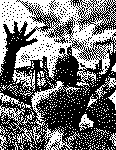 My "my babe" mesh from Organica, imported to Vue 3 as DXF, textured, rendered in landscape, post work in Blade Pro India Ink.